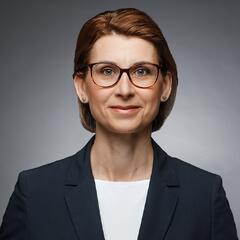 Dipl.-Kauffrau Catherine Dentler
Certified Public Accountant, Tax Advisor, Diplôme d'Expertise Comptable (DEC), Managing Partner
After completing her degree with a specialisation in 'International Trade' in Paris, Ms Dentler pursued a master's degree at the EAP European School of Management (today ESCP Europe) in Paris, Oxford and Berlin, graduating with the title European Master of Management in 1991.
She began her career by working as an assistant auditor at Arthur Andersen in Frankfurt between 1991 and 1993 and was then employed as a manager at KPMG in Frankfurt from 1994 to 2000. In 1998, Ms Dentler passed the examination for the Diplôme d'Expertise Comptable (French tax advisor's exam). In 2000, she was appointed as an auditor in Germany, and subsequently as a tax advisor in 2018.
After over 15 years as a shareholder in an auditing company in Frankfurt am Main, Ms Dentler began working at DORNBACH GmbH on 1 July 2021, where she was appointed as managing director.
Ms Dentler has over 25 years of professional and management experience, with a particular focus on auditing. She has in-depth knowledge of advising German and international companies in various sectors during annual and group audits according to the German Commercial Code (HGB) and the IFRS, as well as specific expertise in the auditing and advising of financial services institutions and in both regulatory issues and internal auditing.
Ms Dentler has demonstrable experience in international projects and a record of success in implementing special audits, company valuations and due diligence within M&A transactions.
One of Ms Dentler's specific areas of competence is advising companies and individuals on issues in a German-French context.
Specialisations
Annual and group audits (HGB and IFRS)
Audits according to Section 44 of the German Banking Act (KWG) and Section 89 of the German Securities Trading Act (WpHG)
Special audits
Company valuations and due diligence
Internal audits
Sectors
Financial service providers
Chemical industry
Commerce
Contact
Bad Homburg
Phone +49 (0) 6172 18 09 - 54
E-mail cdentler@dornbach.de