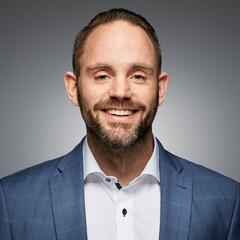 EMBA, Dipl.-Kaufmann (FH) René Feldgen
Certified Public Accountant, Tax Advisor, Managing Partner
Mr Feldgen studied Business Administration at the University of Applied Sciences (FHDW) in Bergisch Gladbach. As part of a postgraduate program in taxation at the University of Münster (JurGrad gGmbH), he gained the degree of Executive Master of Business Administration (EMBA).
Before joining DORNBACH GMBH as Managing Director on 1 July 2016, he worked for well-known medium-sized auditing and tax consulting companies. As well as auditing and advising non-profit organisations, Mr Feldgen's main areas of activity include design consultancy for medium-sized companies and their shareholders. He also focusses on tax accounting, advice on company pensions and bankruptcy law.
Mr Feldgen regularly publishes income tax articles in relevant journals and is a commentator in Korn (Section 4 (5) No. 6b et seq. Income Tax Act (EStG)) as well as Sections 15, 15a, 15b EStG, Sections 33, 33a, 33b EStG, Sections 5, 6, 6a, 11, 13 Corporation Tax Act (KStG) in online comments from "Stollfuß Medien" (Stollfuß Media). He is also the editor of a weekly online publication by tax and business law firm Stollfuß Medien, which comments on current court rulings and tax law legal issues.
Mr Feldgen is also an auditing lecturer at the University of Applied Sciences (FHDW), Bergisch Gladbach.
Mr Feldgen has been a managing director and shareholder of DORNBACH GMBH since January 2018.
Specialisations
Consultancy and auditing of non-profit organisations and foundations, particularly sports clubs
Examination and design consultancy in the field of tax accounting, deferred taxes
Insolvency tax
Industries
Contact
Bergisch Gladbach / branch of Cologne
Phone +49 (0) 2202 9 36 17 - 0
Fax +49 (0) 2202 9 36 17 - 99
E-mail rfeldgen@dornbach.de